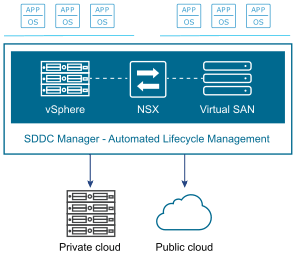 VMware Cloud Foundation provides integrated cloud infrastructure (computing, storage, networking, and security) and cloud management services to run enterprise applications in both private and public cloud environments. It expedites the configuration and running of hybrid cloud. With integrated cloud management capabilities, it is specifically preferred by organisations in corporate, private cloud and hybrid cloud environments such as VMware Cloud over AWS.
VMware Cloud Foundation provides a faster route to a true hybrid cloud by reducing administrative TCO and increasing administrator productivity.
Furthermore, VMware Cloud Foundation integrates with already available VMware products including VMware vRealize Suite, VMware OpenStack, VMware Containers and VMware Horizon. VMware administration uses VMware vCenter Server for tracking and provision.
VMware Cloud Foundation substantially meets the software-defined data centre requirements of organisations while providing hybrid cloud automations.
Contact Us
Stop worrying about technology issues. Just focus on your work. Let us determine and manage the technology you need for you.
"*" indicates required fields